You are at: Planned Giving > Contact Us

Thank you for reaching out to Bethel University. We are delighted that you are interested in further information. We will make every effort to respond to you in a timely manner.
Enter Your Information
Our Staff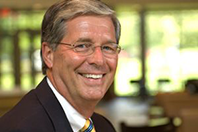 Dan Wiersum '73, CSPG, MBA
Associate Vice President for Planned Giving
d-wiersum@bethel.edu
651.635.8052
Dan Wiersum's Bethel experience goes back some 40 years. Not only did he and his wife Marleen ('72) both graduate from Bethel, so did their three children: Ben ('96), Joel ('99), and Becky ('01).

As an alum and parent of Bethel grads, Dan relates well to the Bethel experience of others. Today, the associate vice president for planned giving shares his expertise in planned giving with donors throughout the United States.

His longevity as a staff member (30 years over a 39-year span) at Bethel translates into valuable historical perspective as well as knowledge and relationships with many Bethel supporters. In addition, he has a strong service orientation, thanks to his previous work in retail management.

Why Dan Enjoys His Work
What he likes best about working at Bethel is "a sense that I'm contributing to God's greater purpose of advancing the gospel of Jesus Christ through the lives of our graduates."

Favorite Bethel Experiences
Dan's favorite Bethel event is Festival of Christmas. His first date with Marleen included "traying" at Como Park (sledding using discarded cafeteria trays, a common custom back then) after the annual concert.

Guiding Scripture Passage
Genesis 48:15–16

When He's Not at Work
Outside of work, Dan is active in his church and other ministries and enjoys woodworking, biking, golfing, and spending time with his eight grandkids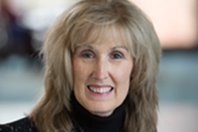 Marleen Smith
Manager for Planned Giving Operations
m-smith@bethel.edu
651.635.8053
Marleen Smith began her Bethel career with the Bethel University Foundation in December 2014 before stepping into her current role in April 2016 supporting scholarships and planned giving marketing and administration.

Prior to joining Bethel's staff, Marleen was assistant director of annual giving at the University of Northwestern St. Paul (UNWSP), where she directed donor marketing, events, and the students in the phone-a-thon call center. Having worked in sales and marketing management in corporate settings most of her career, Marleen is thrilled to bring models of excellence and efficiency to her work in Christian higher education.

Marleen and her husband Jeff have been married for more than 30 years and recently became empty nesters. Their son Ryan is the accounting/office manager at a year-round camp in Ely, Minnesota and their daughter Jacki coaches DIII volleyball at a Bible college in Pennsylvania.

What Marleen Loves About Bethel
"I can't speak highly enough about Christian higher education. I've witnessed first-hand the impact of professors, coaches, and staff in the lives of many students-including our own children- when God is at the center of their education! I praise God for my time at Bethel; I love the people, and I love supporting Christian higher ed by working in advancement. That's my joy."

Favorite Bethel Experiences
A highlight of working at Bethel is participating in weekly devotions with the entire Advancement department. "It's also been fun to go to Bethel/Northwestern games wherever they're played. I've developed a high level of respect for the Bethel coaching staff over the past three years. It's also a joy to attend the Festival of Christmas at Bethel each year. The talent of these young people is amazing."

Guiding Scripture Passage
"Some of my favorite passages are in John 14 and 15."

When Not at Work
When not working, Marleen loves being with family, spending time at the family cabin in the summer, and watching and participating in sports as a family (her husband and children hold black belts in Tae Kwon Do!).